Some Useful Music Teaching Resources For Teachers
Need to find useful resources that would help you to plan your music lessons better and let your students learn and practice the lessons effectively? If yes, we've got you covered.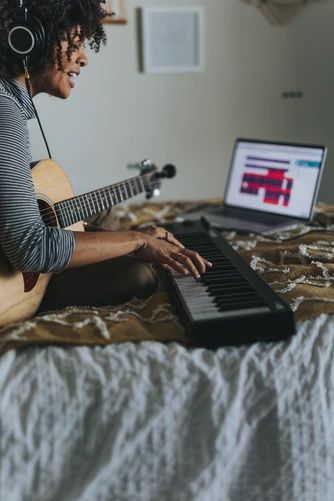 By now, you must have become quite used to conducting your music classes online. But from time to time, you may need to find useful resources that would help you to plan your lessons better and let your students learn and practice the lessons effectively. Instead of spending hours searching for such resources, you can browse through this list, which we have created just for you.
This site offers a free multi-track audio editor that can be downloaded for Mac as well as PC and Linux. You could ask your students to use it and generate soundscapes corresponding to specific sound samples, which your students can get for free from websites like SoundBible.com. You could even encourage your students to create their own beats by finding sounds from their homes, which they can record on their phones and then use Audacity's editor to edit them.
Musicplayonline.com
If you teach elementary music, the paid plans of Musicplay could be just what you need. Since 1997, it has been publishing practical and user-friendly materials for teaching music to elementary school students. With an extensive library of searchable songs (by tone-set or rhythm), teaching suggestions/notes, year plans, and lesson plans, to mention a few, this is one site that you must keep returning to.
Noteflight Learn
It's ideal for both teachers and students. You can get your students introduced to hundreds of music lessons and scores. It also has optional content libraries, which are affordably priced, and would let you and your students access digital scores of popular repertoire for choir, band, orchestra, guitar, piano, etc. You can use and adapt these digital scores for recorded assessments, play- or sing-alongs, composition assignments, score study, and much more!
Carnegie Hall
If you need music teaching resources for grades K-5, grades 6-12, and for professional development, Carnegie Hall brings a wide variety of digital programs and resources that you can use for free. Apart from including some tips and tricks to use these resources the best way, a couple of core classroom activities too are listed to encourage your students' musical inquisitiveness and support their musical development.
Chrome Music Lab
If you want to make your music lessons more fun and accessible through hands-on experiments, this is the ideal resource for you. Whether you plan to explore the connection of music to mathematics, art, and science, or combine live instruments and dance for lively and fun music lessons, you can do them all with Chrome Music Lab. If you want to encourage your students to make and share their own songs, you can even introduce them to the Song Maker.